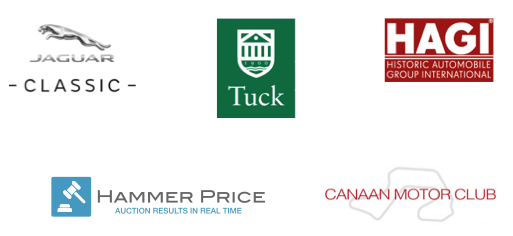 Founding Partner

Location: Tuck School of Business, Dartmouth College, Hanover, NH, USA.
Announcing the 5th annual Value in the Classic Car Market conference October 2018 in Hanover, NH. Join attendees from all over the classic car world and from the Tuck School of Business to discuss value drivers and issues affecting the classic car market today.
Previous Topics include:
- Manufacturer's' Perspective - Global Economic Context - 70 Years of Ferrari Collecting - Insurance Perspective - Market Rules - Market Psychology- Decision Traps - Cars, Art & Preservation - Classic car market and tech startups - Car Display - 2018 topics to be confirmed. 
The conference will take place on October 2018 in Hanover NH. Please view the HAGI website for additional information during Q1 2018. This is an especially busy time in New Hampshire so we recommend getting your hotel accommodations as soon as possible! See below for hotel contact information.
Places to stay:
Six South Street Hotel (recommended)
Special room rates have been negotiated at Six South Street, please mention the 'Value in the Classic Car Market Conference'. Please book early! Hotel off street parking available for classic cars.
6 South Street, Hanover, NH  03755, +1 (603) 643 0600
Located in downtown Hanover - within walking distance of campus. The Hanover Inn
Historic Dartmouth College hotel, located on the Dartmouth campus -- within walking distance of our office.  Attractive rooms and two restaurants.
Main Street, Hanover, NH +1 (603) 643 4300
For additional hotels and other info please view click our recent newsletter 1 (places to stay), newsletter 2 (schedule) and newsletter 3 (speakers, map, cars).
Sunday Drive (8. October, optional):
Drive (not part of the official conference) from Hanover over lunch on Sunday preceding the conference. Meet at the Hanover Green at 8:30am.
Fees:
Participants fee for early registration: $400 (tbc)
Alternate events for family members
King Arthur Flour baking classes www.kinarthurflour.com/visit/school.html
Montshire Museum of Science www.montshire.org/
Organisation/contact
Matthew Lotterhand, Historic Automobile Group, Hanover NH
Dietrich Hatlapa, Historic Automobile Group, London, UK
Conference registration by email to:
Contact: conference@historicautogroup.com
Tel: (US) +1 (603) 682 9673
(UK) +44 20 3289 8356
Web: HistoricAutoGroup.com, select Events. or click here to view our event page on 'Slate'.